We all have things we're a little bit embarrassed about. Looking back at my early Collegiate Cook posts (like, ahem, this one), I have a lot of cringe-worthy moments. Dark, blurry photos, or recipes without photos at all, the occasional typo — hey, it happens. For years, this post has been a big one. My Baked Cinnamon Apple Empanadas recipe immediately rose to popularity, becoming an SEO hit, but I was never happy with the crust. And neither were you guys.
Clearly, we all craved a baked empanada that would have a buttery, flaky crust — without the greasiness (or hassle) of a fried turnover.
My initial recipe went super-healthy, calling for whole wheat crust and absolutely no butter and shortening, getting its fat from egg yolks. It created a crunchy, chewy crust that was more like a tortilla than a pie shell. Not very satisfying. Here's what it looked like: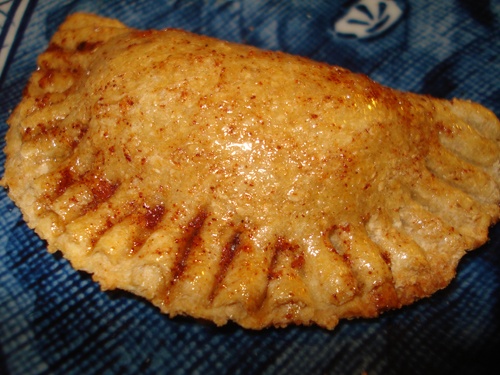 After several tests, I changed the recipe, coming up with something lighter and pillowier. It's gotten rave reviews. I hope you like it too.
My favorite part? This recipe eschews the standard egg wash for a flavorful swipe of cinnamon-sugar goodness on the outside of the dough, and the apple filling is basically an autumnal wonderland in your mouth.
Baked Cinnamon Apple Empanadas Recipe
Utensils required: saucepan, stovetop, mixing bowl, spoon, rolling pin (or can of soda wrapped in a resealable bag), cutting board, oven mitts, baking sheet, oven, measuring cups, fork
Baked Cinnamon Apple Empanadas
Ingredients
Crust:
2 cups flour
1 teaspoon salt
? cup shortening
5 tablespoons cold water
Filling:
2 large apples, peeled and diced
½ cup sugar
1½ teaspoons cinnamon
¼ teaspoon nutmeg
Instructions
First, make the crust: Mix the flour and salt in a large mixing bowl. Use a spoonula to chop in the shortening as much as possible. Pour in the water, mixing everything until it forms a slightly sticky dough. Set aside.
Next, the filling: Pour the chopped apples, sugar, cinnamon and nutmeg into a large saucepan. Cook over medium heat for 7-9 minutes. Turn off the burner, and preheat the oven to 350 degrees F.
As the oven heats, roll out the dough as thin as possible (about ¼ inch or so). Use a 3-inch cookie cutter -- or trace the mouth of a large cup with a knife to make even circles of dough. Set each circle on a parchment-lined baking sheet. Top with a teaspoon of the baked apple mixture, then fold over the dough until it forms a semi-circle.
Use a fork to crimp the edges of each empanada so the filling doesn't ooze out. Brush the top of each empanada with the leftover juices from the filling. It creates a cinnamon-sugar glaze that gives the crust extra flavor. Bake for 14-16 minutes, or until the empanadas have turned lightly golden.
http://collegiatecook.com/2010/02/07/baked-cinnamon-apple-empanadas/
You'll Love It With: